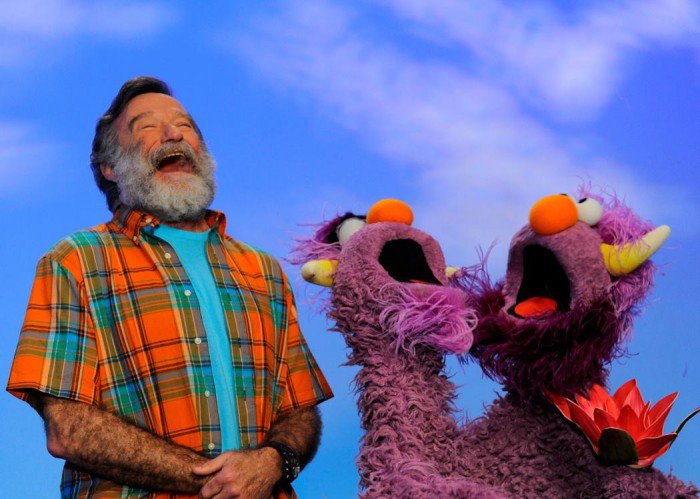 "There by the rivers of Babylon 5 we sat and wept."
.
Several days ago, I was feeling generally nostalgic and posted a photo from the film version of The World According to Garp as my Facebook background photo. It was the cover photo of the movie tie-in paperback—which shows a scene not original to John Irving's classic novel about the life and times of progressive, curmudgeonly novelist, T.S. Garp.
In the scene, Garp, brought exquisitely to life by Robin Williams in his first major film role (unless you include Popeye), is house hunting with his wife, Helen, played by Mary Beth Hurt. The couple witnesses a small biplane crash into the upper floor of a suburban home (the pilot survives), whereupon Garp immediately responds to the realtor, "We'll take the house! The chances of another plane hitting this house are astronomical! It's been pre-disastered!"
He turns to Helen and assures her, "It'll be safe here."
It's a line only Robin Williams could deliver in a scene only he could play with a straight face. (I can only imagine the stifled guffaws of the film crew and director George Roy Hill during shooting.)
How many celluloid stories came to life that otherwise would yet lay dormant on production company shelves save for Williams' unique comic genius? Alladin. Dead Poets Society. Good Morning, Vietnam. The Fisher King. Patch Adams. Even the seldom-viewed mini-classic, Seize the Day, which remains the only Saul Bellow novel ever turned into a film.
Need a pick-me-up from a world that seems capable only of delivering dread cable news of kidnapped school girls and downed airliners? Just watch Robin Williams turn a salmon shawl into the world's funniest gay shul Iron Chef octopus testicle car wash hijab. After your spleen recovers from being splitting in twain from laughter, watch the entire Inside the Actor's Studio episode with Williams. If you weren't already aware, the man was perhaps the most self-aware and sensitive actor—not just of his generation, but of any generation.
And as for standup comedy, it's hard to imagine anything topping "An Evening with Robin Williams" (San Francisco Great American Music Hall, 1982) and "A Night at the Met" (1986).
As James Lipton said, "Trying to categorize [Williams] is like trying to catch lightning in a butterfly net."
Well, here's my effort at snatching one of Zeus' lepidopterist bolts: Robin Williams was a Whitmanean "Celebratory Leaf."
My entire adulthood, I have looked forward to watching Williams someday bottle up all that thespian energy into one last Hollywood hurrah and throw himself balls against the wall into the great biopic role of the "sweaty-toothed" American poet Walt Whitman.
The smoke of my own breath;
Echoes, ripples, buzz'd whispers, love-root, silk-thread, crotch and vine;
My respiration and inspiration, the beating of my heart,
the passing of blood and air through my lungs…
.
For every role that made us chuckle or late night appearance with Jonathan Winters that made us wonder whether Williams might actually be an alien clown, he showed a dramatic side that literally blew our minds away.
But that complexity came at a price. Robin Williams suffered. And, I might add, he suffered publicly.
He was addicted to cocaine. Publicly. He was an alcoholic. Publicly. He battled depression. Publicly.
In the end, he made a decision to depart our world for the mystery that lies beyond. The news is public, but the decision was private. And at this point, I withdraw my remarks and allow the Williams Family to grieve in peace.
.
…
Tonight, at the end of happy hour, no less, I first learned of the news of Williams' passing. I paid my tab and made it to my car. By the time I arrived home, I was a weeping mess.
Why?
The man was just an actor. He was a mere mortal—as evidenced by Cadillac Man.
But he was so much more than that. The last time I saw the entire nation mourn collectively for someone like this—honestly—was Princess Diana.
In fact, when was the last time you heard an American president eulogize anyone like this?
Robin Williams was an airman, a doctor, a genie, a nanny, a president, a professor, a bangarang Peter Pan, and everything in between … But he was one of a kind. He arrived in our lives as an alien—but he ended up touching every element of the human spirit. He made us laugh. He made us cry. He gave his immeasurable talent freely and generously to those who needed it most—from our troops stationed abroad to the marginalized on our own streets. The Obama family offers our condolences to Robin's family, his friends, and everyone who found their voice and their verse thanks to Robin Williams.
At Forward Progressives, we write about politics and the advancement of civilization by applying socially conscious ideas.
So surely it's my job to tie the life and times of Robin Williams to that mission. Or maybe I could spin this into an "anti-depression" ad. (Well, it never does hurt to advertise the National Suicide Prevention Lifeline number: 800.273.TALK (8255)).
But, really, let's all just sit back for a few minutes, forget about partisan politics and pay tribute to our national funny man who was at the same time "the handkerchief of the Lord."
.
…
Back to The World According to Garp for a moment, if I may. Like life itself, the complex existence of T.S. Garp left the thumb of the great film critic Roger Ebert in a bit of a quandary:
I thought the acting was unconventional and absorbing (especially by Williams, by Glenn Close as his mother, and by John Lithgow as a transsexual). I thought the visualization of the events, by director George Roy Hill, was fresh and consistently interesting. But when the movie was over, my immediate response was not at all what it should have been. All I could find to ask myself was: What the hell was that all about?
Indeed! What the hell is it all about?
Those of us who remain in Williams' wake will continue to ask that question every day.  For many of us, our answers are intelligently informed by his magnificent portrayals.
Yet let us pause in our search, raise our glasses and drink with our forefingers in tribute to the greatest funny man who ever lived.
Mork, he dead. Nanoo-nanoo.
Robin Williams, may you rest in peace.
{Originally published on the website Forward Progressives on August 12, 2014, the day after Williams passed away. The original article received more than 100,000 views.}